Dean Laytham announced that the name of the MACM has been changed from Master of Arts in Church Ministries to Master of Arts in Christian Ministries. Both the EI faculty and the Executive Board voted to update the degree name to better reflect the variety of ministry settings within which EI students serve and for which the degree prepares them. In addition to parish and congregational settings, ministry sites of current students and alumni have included non-profits, hospitals, and parachurch ministries. The degree will continue to be a 48-credit degree, culminating in a final integrative ministry course. Those interested in pursing a Master of Arts in Christian Ministries should contact Galen Zook, the Director of Admissions, or Dr. Pat Fosarelli, the Director of the MACM program, for more information.
Hear from MACM Alumni Derek Miller and Catherine Liberatore about how the degree prepared them to serve in a variety of ministry settings.
Due to the ongoing pandemic, the decision was made to remain fully online for the rest of the fall 2021 semester. A video message from Dean Laytham about the decision can be found below.
The library will remain open for current students and faculty. If you have any questions, please contact Dr. Hancock.
(September 1, 2021) Dean Brent Laytham announced today that Dr. Michael Gorman was named the Director of the Certificate of Advanced Studies (CAS) program at St. Mary's Ecumenical Institute. He has been interim director for the last two terms.
"I am delighted that Dr. Gorman has taken on this role to strengthen a program he started when he was dean and in which he has played a vital part," said Dean
Laytham
.
The Certificate of Advanced Studies is a post-master's program for those who want to deepen their theological knowledge. Some students use it to prepare for Ph.D. work. Interested students should contact the E.I.'s admissions director,
Galen Zook
or
Dr. Gorman
.
---
View video from CAS student:
On September 1, 2021 St. Mary's opened its academic year with a "Mass of the Holy Spirit" (sometimes called a "Red Mass" after the liturgical color for the Holy Spirit and the vestments worn). The Most Rev. William E. Lori, Archbishop of Baltimore, was the presider and homilist. The principal concelebrants were Rev. Phillip Brown, P.S.S., President-Rector of St. Mary's Seminary & University, Rev. Paul Maillet, P.S.S., Vice-Rector of St. Mary's, and Rev. Gladstone Stevens, P.S.S., St. Mary's Academic Dean. Deacons for the liturgy were Rev. Mr. Kenneth Lukong, Archdiocese of Baltimore, and Rev. Mr. Brian Norris, Diocese of Altoona-Johnstown.
Included in the celebration was a special rite after Communion in which new members of the St. Mary's community–seventeen new seminarians, four priests from Cameroon studying for the Licentiate in Sacred Theology (STL), and two new faculty members–inscribed their names in the St. Mary's Covenant Book. After the inscriptions, al faculty and students recited "The St. Mary's Covenant" dedicating themselves to their studies and a life of community in formation as practiced in the tradition of the Society of Saint Sulpice.
Following the conclusion of the Mass, all faculty, students, and seminarians gathered with Archbishop Lori for the annual community photo.

The final phase of renovations to the living areas of the seminary have been completed, bringing to an end the two-year construction project and an even lengthier period of planning and organization. The project reimagined a 1929 dormitory-style collection of small rooms built for hundreds of seminarians–along with communal bathrooms and showers, and fitness and recreation areas–in need of updating. These were converted into modern, welcoming–yet far from luxurious–residential floors with over 100 small suites (created by combining two former small dormitory rooms) plus lounges, small kitchens, and prayer rooms.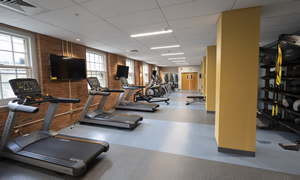 Each suite contains space for a bed, a study area, a reading chair, and a private bath. The fitness room has been completely renovated with modern equipment to promote healthy physical development and care. Scattered among the seminarian rooms are suites for the Sulpician faculty members as well. Sulpician faculty live among the students as a "formational community" or communauté éducatrice in the words of Jean-Jacque Olier, founder of "The Society of the Priests of the Seminary of St. Sulpice" in Paris, France in the 1600s.
The project is much more than a the renovation of a building. It is actually a part of the wider re-commitment and revitalization of the entire process of human formation at the seminary. Human Formation is considered one of the four "pillars," or dimensions, of Roman Catholic priestly formation (along with spiritual, intellectual, and pastoral formation). At St. Mary's, human formation is a cornerstone to priestly formation. "We are forming men to be healthy, happy, holy, and mature priests–the kind of priests the people of God deserve," says Fr. Phillip J. Brown, President-Rector of St. Mary's Seminary & University.
Providing living spaces for adult, mature young men (and older, as well) is a key aspect to this formational goal.
The last of the renovated rooms was blessed on Monday, August 30. A Mass of Gratitude and reception for the contractors and companies involved in the renovation was held on September 10 (picture below).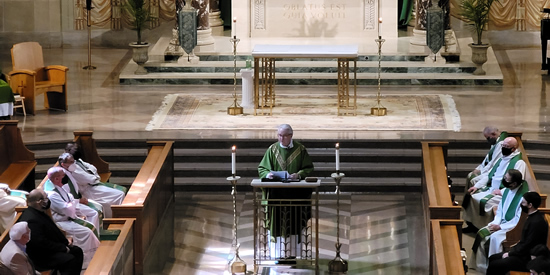 Rev. Innocent Smith, O.P. and Dr. James Starke Join the Faculty
St. Mary's welcomes two new members of the Seminary/School of Theology faculty: Rev. Innocent Smith, O.P. and Dr. James Starke.
Dominican Father Innocent Smith, who is also a Missionary of Mercy appointed by Pope Francis, has ministry, teaching, and research specialties in homiletics, liturgy, sacramental theology, ecclesiology, and sacred music. He joins the faculty as Assistant Professor of Homiletics. He will also serve as the Director of Spiritual Life Programs. See his full faculty description and C.V….
Dr. James Starke most recently served as Director of the Office of Divine Worship for the Catholic Diocese of Arlington. Dr. Starke and his family live in Arlington, VA and enjoy spending time in nature parks, visiting museums, and playing sports. He joins the faculty as Assistant Professor of Systematics. He will also serve as Director of Liturgy. See his full faculty description and C.V….
Welcome to our New Food Service Provider—SAGE!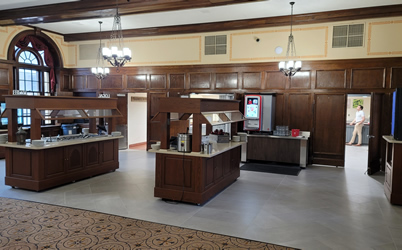 Over the summer St. Mary's has done a complete renovation of the servery with beautiful new flooring, lighting, and technical upgrades. SAGE, our new food service provider, has done a complete revision of the menu to provide new offerings, healthy choices and always-available information. Digital communications have been deployed with the SAGE dining services app for easy access to menus, nutritional information and recipes as well as opportunities to give feedback and view events.
Get started with the "Touch of SAGE" mobile app for both Android and iOS:
Download and install from your respective app store.
Register your profile by completing the forms (when you put in the 21210 zip code, you'll see "St. Mary's Seminary & University" as an option).
Make sure you verify your email when you setup your profile (check your spam/junk folder if you didn't see it come in).
Wait for the start of the academic year for the menus and goodies to begin!
See you in the refectory!