Vladimir Stoupel at St. Mary's
Friday, May 20, 2022 • 7:30 PM EDT
St. Mary's Chapel at St. Mary's Seminary & University
Free and open to the public, but registration is requested.
Register online at Eventbrite.
Franz Schubert: Sonata in E minor D. 566 (unfinished)
César Franck: Prélude, Aria et Final (1887)
Erwin Schulhoff: Suite No. 3 for the Left Hand (1927)
Maurice Ravel: La Valse (composer's version for solo piano) (1919)
Vladimir Stoupel returns to St. Mary's to present a timely recital. His program features several pieces composed in reflection on World War I. This look back into history helps us to cope with the crisis-ridden present and to commemorate the lives lost in the war. We need distance to be able to process all this. Music is especially necessary in times of crisis! It offers us a protected space; it gives us the opportunity to reflect. War destroys, music builds up.
Vladimir Stoupel is an individualist with an extraordinarily rich tonal and emotional palette. The Washington Post praised his "protean range of expression" and Der Tagesspiegel Berlin described his performance as "enthralling and atmospherically dense." His extraordinary technical command allows him to explore the outermost limits of expression, mesmerizing audiences with his musical intensity.
View/download the Event Flyer.
Guests are invited to make a free will offering to defray the expense of Mr. Stoupel's performance and to make it possible for St. Mary's to host more such events.
Suggested Donation: $25.00


(If you wish to make a donation online, use the following link:)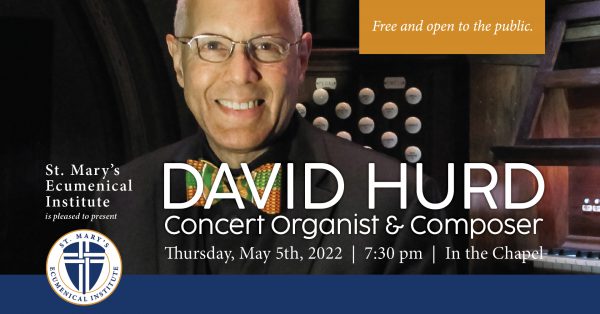 St. Mary's Ecumenical Institute presents concert organist and composer David Hurd in a concert that is free and open to the public.
Thursday, May 5th, 2022 at 7:30 PM EDT in the Chapel at St. Mary's Seminary and University.
Free and open to the public, but registration is requested at:
https://eihurdconcert.eventbrite.com
"Nothing was commonplace. Hurd paints his musical ideas with bold colorful strokes that emit an almost visceral electricity. Immediately striking was his use of dynamics, timbre, and melodic direction to create a shifting contour that owed as mighty forces of nature. Whatever the emotional effect produced, Hurd seemed to live within it fully….wildly virtuosic." – (The Blade, Toledo, Ohio)
David Hurd is widely recognized as one of the foremost church musicians and concert organists in the United States, with a long list of honors and achievements, and immeasurable expertise in organ performance, improvisation, and composition. For 39 years David Hurd was on the faculty of The General Theological Seminary in New York City, as Director of Chapel Music, Organist, and Professor of Church Music. He is the composer of dozens of hymns, choral works, settings of the liturgy, and organ works published by a number of major houses. His music appears in hymnals and choir libraries in churches of nearly all religious denominations. In 2010 he became the fifteenth recipient of the American Guild of Organists' Distinguished Composer award. Dr. Hurd serves as Organist/Choirmaster of the Church of St. Mary the Virgin in New York City.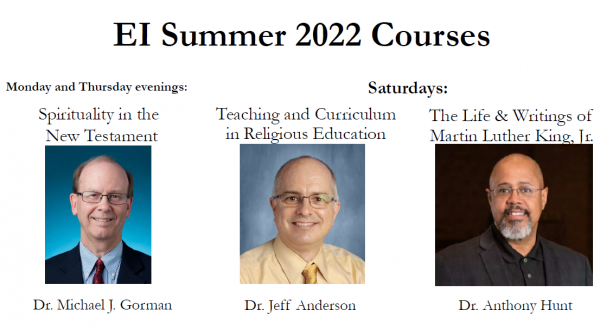 St. Mary's Ecumenical Institute is offering an exciting range of graduate-level courses open to new and visiting students, including The Life & Writing of Martin Luther King, Jr., taught by Dr. Anthony Hunt, and Spirituality in the New Testament, taught by Dr. Michael Gorman. All courses will have live synchronous classes, so you can attend in person or online, wherever you are!
See the full list of Summer 2022 courses here.
Join us for an evening of sacramental poetry, as two renowned poets read their own words of faith and spirit, prayer and presence.
Friday, April 29, 2022 at 7:30 PM EDT in Laubacher Hall, St. Mary's Seminary and University.
Free and open to the public, but registration is requested for this attending in person at:
https://smsupoetry.eventbrite.com.
The event will also be livestreamed at: https://vimeo.com/event/1982975
Brian Volck, M.D., M.F.A.
Brian Volck is a pediatrician and writer who lives in Baltimore. He is the author of a poetry collection, Flesh Becomes Word, and a memoir, Attending Others: A Doctor's Education in Bodies and Words. His poetry, essays, and reviews have appeared in Ars Medica, Atlanta Review, DoubleTake, Health Affairs, Image, and The Journal of Moral Theology.
Laura Reece Hogan, J.D., M.A.
Laura Reece Hogan is the author of Litany of Flights (Paraclete Press), which was the winner of the Paraclete Poetry Prize; the poetry chapbook O Garden-Dweller (Finishing Line Press); and the nonfiction spiritual theology book I Live, No Longer I (Wipf & Stock). Her poems have appeared in America, U.S. Catholic, First Things, The Christian Century, Dappled Things, and other publications.