CONNECT will be returning in 2023
We're pleased to announce that our CONNECT: Faith, Health & Medicine Graduate Certificate program will run again in 2023! This cohort-based program integrates faith traditions and medical practices into a holistic understanding of healthy persons, congregations, communities and institutions.
Dr. Pat Fosarelli, who directs our CONNECT Certificate program, had this to say:
"In this era when health issues appear on every newscast, CONNECT is an ideal vehicle to help students understand how faith and health interact with each other, even (and especially) in polarizing times.
"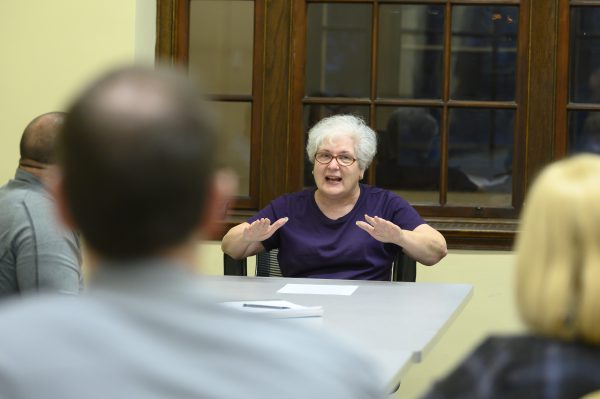 Summer Classes Have Begun!

Saturday classes began this past Saturday May 21, and Monday/Thursday classes begin on Thursday, May 26. We are so excited to finally welcome students and faculty back into the building, as students are attending both in person and online.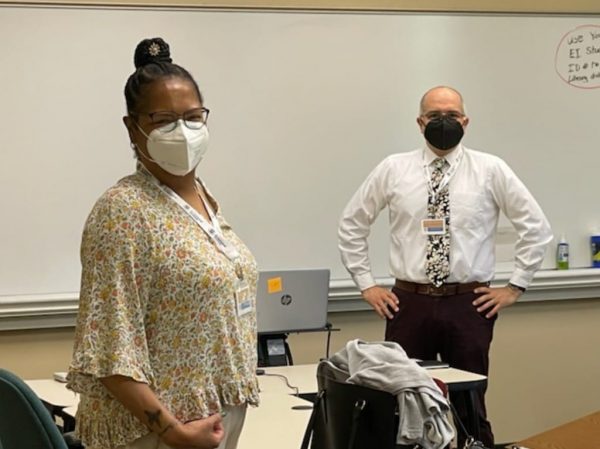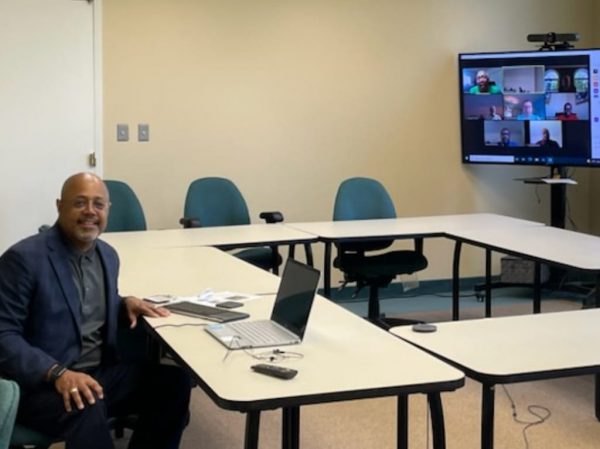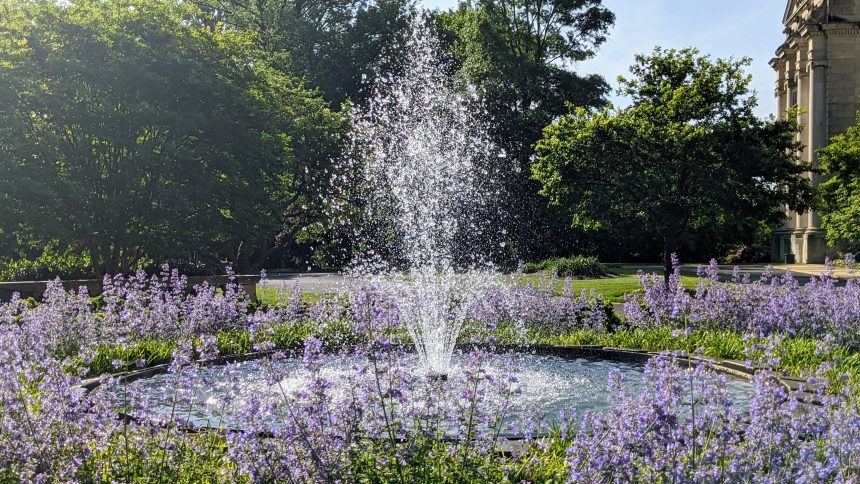 Congratulations to our 2022 graduates!
On Thursday, May 12, 2022, St. Mary's Seminary and University awarded 12 degrees and 2 graduate certificates to students from the Ecumenical Institute, along with 15 seminarians from the Seminary/School of Theology. Ellen Frances Davis, Ph.D., a preeminent scholar of the Old Testament, currently the Amos Ragan Kearns Professor of Bible and Practical Theology at Duke Divinity School, was the Honorary Degree recipient and Commencement Speaker.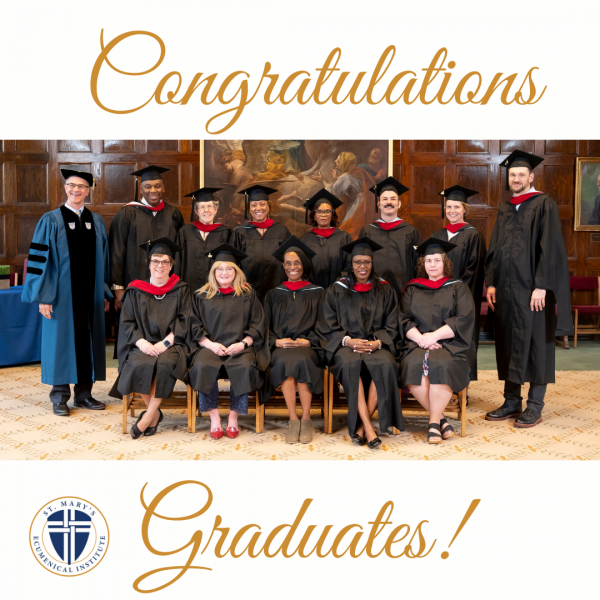 Supreme Knight Patrick Kelly Presents Charter
At evening vespers on Tuesday, April 26, 2022, St. Mary's welcomed Knights of Columbus Supreme Knight, Patrick Kelly, and Most Reverend William E. Lori, Archbishop of Baltimore and also the Supreme Chaplain of the Knights, at a special charter ceremony inaugurating the Blessed Michael McGivney Council of the Knights of Columbus at St. Mary's. The development of the Council is notable as it is established at the very seminary from which Fr. Michael McGivney, founder of the Knights of Columbus, graduated in 1877.
The ceremony took place in St. Mary's Chapel where a portrait of Fr. McGivney and a relic were placed in honor with flanking candles. Archbishop Lori presided at the Evening Prayer and preached the homily. In addition to Supreme Knight Kelly, Knights of Columbus State attended along with Very Reverend Daniel Moore, Acting Provincial of the Society of Saint Sulpice, United States Province.
The service was followed by a celebratory dinner and additional addresses, including a speech by the first Grand Knight of the new Council, Mr. Michael Schultz, Second-Year Seminarian from the Archdiocese of Louisville.
Knights of Columbus video summary of the event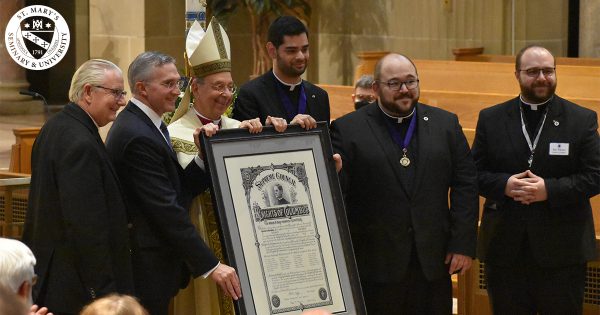 Charter presentation during Evening Vespers.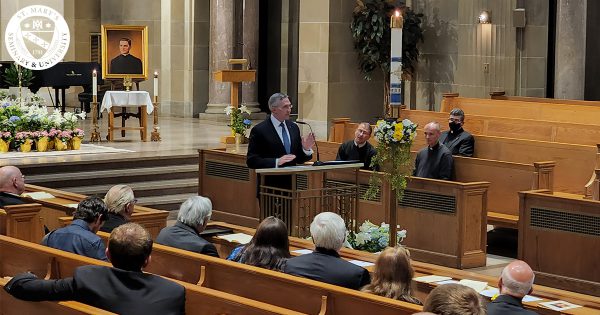 Supreme Knight Patrick Kelly speaks to the congregation.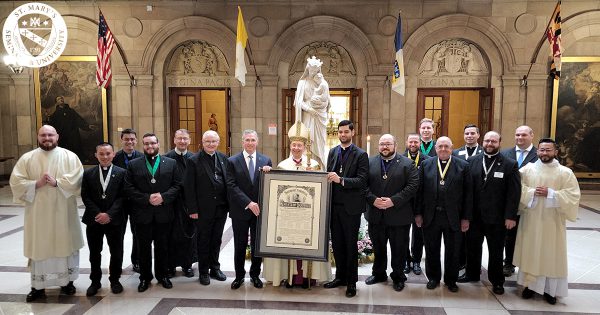 (In the center) Most Rev. William E. Lori, Archbishop of Baltimore and Supreme Chaplain of the Knights of Columbus, (to the immediate left) Mr. Patrick E. Kelly, Supreme Knight, (next left) Rev. Phillip J. Brown, P.S.S., President-Rector of St. Mary's Seminary & University. (To the right of Archbishop Lori) Mr. Michael L. Schultz, 2nd Year Seminarian of the Archdiocese of Louisivlle. (Remainder) The faculty and student members of the new Council.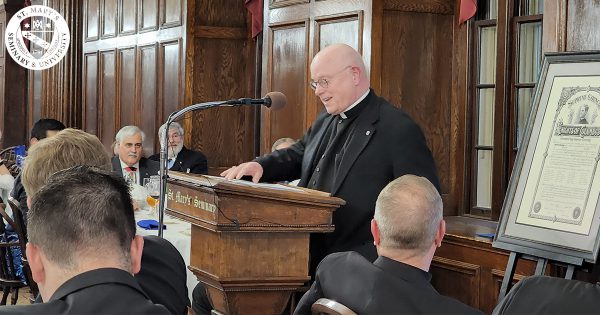 Acting Provincial of the United States Province of the Society of Saint Sulpice, Very Rev. Daniel Moore, P.S.S., speaks at the dinner with fond memories of his membership in the Knights.