Recorded Lecture/Recital by Fr. Maillet
On October 21, Fr. Paul Maillet, St. Mary's Director of Spiritual Life, presented a lecture-recital at The Schubert Club of Fairfield County in Connecticut. His program highlighted the differences and contexts of "Six Moments Musicaux" by both Schubert and Rachmaninoff.

As Fr. Maillet notes, "'Moments musicaux' . . . the name suggests evocative, improvisatory, and in some cases fleeting musical miniatures, as opposed to long, thought-out, and highly structured compositions. Two famous composers wrote sets of six moments musicaux: the early romantic, Franz Schubert and the late romantic, Sergei Rachmaninoff. Thus, the two sets can be seen as sort of "musical bookends" marking the span of nineteenth-century romantic piano literature."

The Schubert Club recorded the event and uploaded it to YouTube.
From June 8-10, 2023, St. Mary's Seminary & University will host a conference titled "The Primacy of God in a Secular Age: On the Theological Virtue of Faith." The conference is sponsored by The Sacra Doctrina Project in partnership with SMSU.
Featured Speakers will be:
Lawrence Feingold
Michael J. Gorman
Denys Turner
The conference is currently requesting papers. Those interested should submit a 300-word abstract proposal via The Sacra Doctrina Project website. Priority consideration will be given to proposals received by December 15, 2022; proposals will also be accepted through January 1, 2023.
For more information, visit: sacradoctrinaproject.org/conference.
The National Conference of Diocesan Vocation Directors (NCDVD) held their annual convention in Baltimore from September 2-9 at the Hilton Inner Harbor, next to Camden Yards. To thank the participants for visiting Baltimore and to show them the wonderful formation opportunities at St. Mary's Seminary & University, a special "Night at the Parks" was held on September 6.
Approximately 100 vocation directors came to Roland Park from the hotel. The evening began with Vespers in St. Mary's Chapel; Archbishop William E. Lori, presided. Then, they joined the seminary community for an Orioles-themed "tailgate" dinner in the refectory. The meal was preceded by a short video greeting from none other than Cal Ripken himself. September 6 marked the 27th anniversary of the night Cal broke Lou Gehrig's consecutive game streak.
Seminarians offered brief tours to those interested in seeing the seminary's renovated living spaces.
The evening continued with transportation from Roland Park to Oriole Park where the vocation directors saw an Orioles home game, accompanied by St. Mary's President-Rector, Fr. Philip Brown, P.S.S., and a number of faculty and seminarians.
The vocation directors were mightily impressed with the creativity and depth of St. Mary's hospitality.
St. Mary's Center for Continuing Formation is currently accepting registrations for the annual New Pastors' Program to be held November 6-11, 2022 at the Center on the St. Mary's campus in Baltimore, MD.
See the detailed schedule and download the registration form on the New Pastors' Program page.
St. Mary's President Rector, Fr. Phillip J. Brown, P.S.S., presents his next reflection for the St. Mary's community, Letters from the Park. In it, Fr. Brown takes his inspiration from a quote from Dante's The Divine Comedy, saying:
It seemed appropriate to me to reflect for this second of the revived Letters from the Park on this passage, an image of one emerging from catastrophe, looking back on perils escaped, as he moves forward toward new vistas, some dark and fearsome, others offering hope, eventually leading to a final sublime state.
---
Full Text:
Letters from the Park
Letter #2
May 2022
Pentecost
Baltimore: Roland Park Neighborhood
E come quei che con lena affinata
Uscito fuor del pelago alla riva
Si volge a l'aqua perigliosa e guataCosì l'animo mio che ancor'fugiva
Si volse a retro a rimirar lo passo
Che non lascio già mai persona viva

And as one shipwrecked, with panting breath




Emerges from open sea onto the shore,




Turns to gape at the perilous water

So my soul, still fleeing in terror,




Turns to gaze at the woodland passage




Which leaves no person alive who lingers there.
Dante Aleghieri, La Divina Commedia
Canto 1:22-27
Dear St. Mary's Community,
The Divine Comedy is the story of a soul. Written in the fourteenth century, it touches on themes strangely contemporary. "Contemporary" because they are universal: the ultimate consequences of human actions; how to live in the face of the unpredictability and stresses of human existence; what is our relationship with God, and what should our relationships with one another be like; what constitutes good governance and bad governance in human affairs; what, ultimately, is life all about.
Civilization seemed at a high point when Dante wrote, but it was also plagued by corruption, violence, selfishness, and decadence in its highest circles. The themes of the Comedy are not exclusively "spiritual" but related as well to the real world in which its characters had lived.
Dante and his guide, the Roman poet Virgil, travel together through the Inferno (hell), Purgatorio (purgatory) and eventually to Paradiso (heaven), the three realms beyond life in this world. They meet only people who had lived in this world who have now gone on to eternal rewards and punishments, some for purgation before, but with the assurance of, entering heaven. Dante's voyage begins on Holy Thursday and ends on Wednesday of Easter week. As Easter Season 2022 comes to an end and we return to Ordinary Time the day after Pentecost, things are feeling more normal, as we yearn for more "normal," even as we are reminded that we have not moved completely beyond the perils of our current times. It seemed appropriate to me to reflect for this second of the revived Letters from the Park on this passage, an image of one emerging from catastrophe, looking back on perils escaped, as he moves forward toward new vistas, some dark and fearsome, others offering hope, eventually leading to a final sublime state.
Dante's image is an appropriate point of reflection, I believe, as we emerge from the COVID-19 pandemic of 2020-2022. Descending upon us so swiftly, it was here before we really knew what was happening; not unlike a shipwreck, beginning with small but ominous signs that something was amiss, then suddenly affecting thousands, hundreds of thousands, millions of people, many of whom lost their lives. We mourn those who have passed and pray for their loved ones. We seem to have made it through the worst now, but it has not completely gone away. We are emerging like Dante's character still looking back at perilous waters as we move more and more toward safety.
Risks, dangerous risks, remain. But risks there have always been, are, and will always be in this life. In the end, however, our lives are determined not by the dangers but by the courage and determination with which we face them. Not fate but hope is our lodestar. That is at the heart of Dante's message: the serious risks and dangers of life do not have the final word—not for those who have faith, those who trust in the Spirit of God who guides us. Faith and salvation await us, lived in hope even during darkest days, not just spiritually but in the real circumstances of our lives—like a pandemic. And were it only a pandemic! So many other fearsome realities continue to beset us: a war of aggression, thought impossible in our day and time; senseless shootings; continued polarization and political rancor.
The Divine Comedy was written fifty years before the Black Plague wiped out one-third to one-half the population of Europe, a major event that challenged human beings to the extreme. But we endured, emerged from it, regained hope, faith and determination, just as we are doing in the face of the challenges we are having to face. The pandemic preoccupied us for over two years. We have an opportunity to regain a larger perspective now—not only that there are other terrible challenges in front of us, like war abroad and random violence at home, but also because there is much that is hopeful in front of us, if we only recover our vision for the hopefulness that having a future is. And we do have a future, one that can be better than the past, even if we must continue to endure negative challenges as we pursue positive progress. What will make all the difference, I believe, is that we come to realize and embrace the fact that history and the future are not just things that happen, they are things that people make happen. It is through the quality of how we live our lives and embrace values and initiatives that will make our world and the future better than past events that have darkened our lives that will make the difference, if we commit ourselves to living those values and carrying those initiatives out.
Another favorite author whose writings are filled with great wisdom, who has offered much hope and given much strength to generations of Christian believers is St. Augustine of Hippo. Something he said gave me perspective for what I wanted to say in this letter, which is that however challenging these past years have been, and the present seems to be, through faith we will experience a resilience that we otherwise might not have dreamed we had; an ability to heal from the wounds the past few years have inflicted on us and shape our present and our future in ways that will allow us to move beyond the challenges toward something stable, satisfying and hopeful; something ultimately sublime. As Augustine says:
"Bad times, hard times, this is what people keep saying; but let us live well, and times shall be good. We are the times: such as we are, such are the times."
St. Augustine, Sermon 80:8
Supreme Knight Patrick Kelly Presents Charter
At evening vespers on Tuesday, April 26, 2022, St. Mary's welcomed Knights of Columbus Supreme Knight, Patrick Kelly, and Most Reverend William E. Lori, Archbishop of Baltimore and also the Supreme Chaplain of the Knights, at a special charter ceremony inaugurating the Blessed Michael McGivney Council of the Knights of Columbus at St. Mary's. The development of the Council is notable as it is established at the very seminary from which Fr. Michael McGivney, founder of the Knights of Columbus, graduated in 1877.
The ceremony took place in St. Mary's Chapel where a portrait of Fr. McGivney and a relic were placed in honor with flanking candles. Archbishop Lori presided at the Evening Prayer and preached the homily. In addition to Supreme Knight Kelly, Knights of Columbus State attended along with Very Reverend Daniel Moore, Acting Provincial of the Society of Saint Sulpice, United States Province.
The service was followed by a celebratory dinner and additional addresses, including a speech by the first Grand Knight of the new Council, Mr. Michael Schultz, Second-Year Seminarian from the Archdiocese of Louisville.
Knights of Columbus video summary of the event
Charter presentation during Evening Vespers.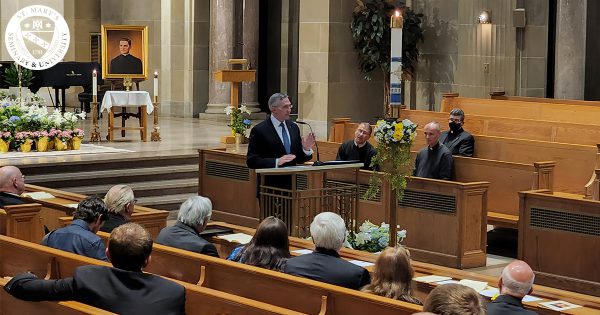 Supreme Knight Patrick Kelly speaks to the congregation.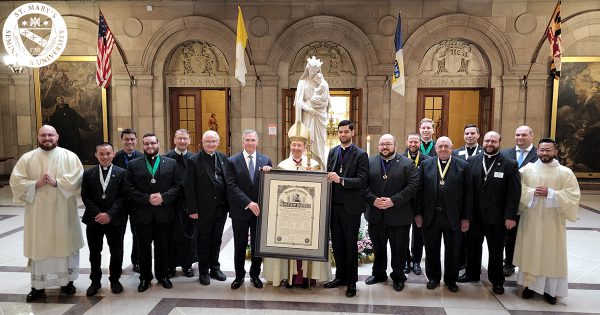 (In the center) Most Rev. William E. Lori, Archbishop of Baltimore and Supreme Chaplain of the Knights of Columbus, (to the immediate left) Mr. Patrick E. Kelly, Supreme Knight, (next left) Rev. Phillip J. Brown, P.S.S., President-Rector of St. Mary's Seminary & University. (To the right of Archbishop Lori) Mr. Michael L. Schultz, 2nd Year Seminarian of the Archdiocese of Louisivlle. (Remainder) The faculty and student members of the new Council.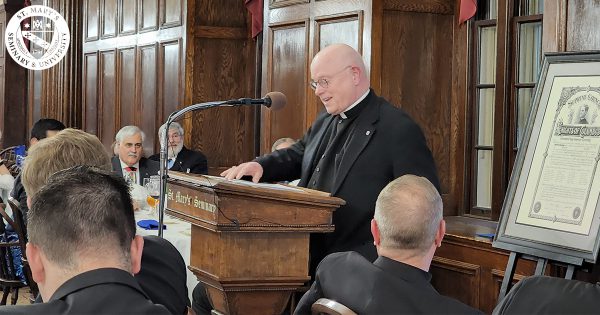 Acting Provincial of the United States Province of the Society of Saint Sulpice, Very Rev. Daniel Moore, P.S.S., speaks at the dinner with fond memories of his membership in the Knights.
Friday, May 20, 2022 • 7:30 PM EDT
St. Mary's Chapel at St. Mary's Seminary & University
Free and open to the public, but registration is requested.
Register online at Eventbrite.
Franz Schubert: Sonata in E minor D. 566 (unfinished)
César Franck: Prélude, Aria et Final (1887)
Erwin Schulhoff: Suite No. 3 for the Left Hand (1927)
Maurice Ravel: La Valse (composer's version for solo piano) (1919)
Vladimir Stoupel returns to St. Mary's to present a timely recital. His program features several pieces composed in reflection on World War I. This look back into history helps us to cope with the crisis-ridden present and to commemorate the lives lost in the war. We need distance to be able to process all this. Music is especially necessary in times of crisis! It offers us a protected space; it gives us the opportunity to reflect. War destroys, music builds up.
Vladimir Stoupel is an individualist with an extraordinarily rich tonal and emotional palette. The Washington Post praised his "protean range of expression" and Der Tagesspiegel Berlin described his performance as "enthralling and atmospherically dense." His extraordinary technical command allows him to explore the outermost limits of expression, mesmerizing audiences with his musical intensity.
View/download the Event Flyer.
Guests are invited to make a free will offering to defray the expense of Mr. Stoupel's performance and to make it possible for St. Mary's to host more such events.
Suggested Donation: $25.00


(If you wish to make a donation online, use the following link:)
December 2021
Members of the St. Mary's community have an impact far beyond our Baltimore location. These are some of the latest examples.
St. Mary's Community Supports Mother Seton Academy in Baltimore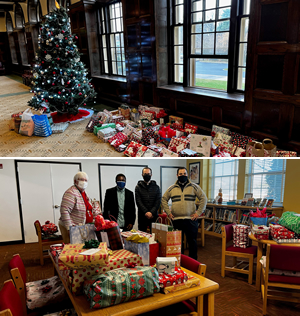 Once again, the St. Mary's community participated in the annual "Gift of the Magi" program. The Peace and Justice Committee, who coordinated the program, gathered 84 gifts. An additional 20 gifts were brought by the OLPH Edgewater Youth Group, who came on Saturday to assist with gift wrapping. The gifts were collected to support 84 underprivileged children who attend Mother Seton Academy, operated by the School Sisters of Notre Dame. This is a program that St. Mary's has supported for around 10 years, and this year's drive was a great success.
Pictured: (top) the gifts are wrapped and ready for transport; (bottom) seminarians deliver the gifts to Mother Seton Academy: (left-right) Sr. Margaret [Peggy] Juskelis, SSND (the President of Mother Seton Academy), John Enemuo (Diocese of Wilmington), Michael Boris (Diocese of Scranton), and Javier Fuentes (Archdiocese of Baltimore).
Announced: Fr. Innocent Smith, O.P. at Saint Meinrad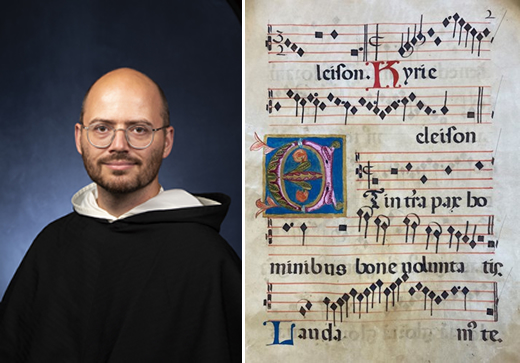 Saint Meinrad Institute of Sacred Music (Saint Meinrad, Indiana) will present an afternoon workshop on "Understanding Liturgical Manuscripts" on Saturday, January 8, 2022. The free event will be held in the Saint Meinrad Archabbey Library from 1:30 to 4:30 p.m. Central Time. It is open to the public.
Among the group of leading scholars who will present: St. Mary's own Associate Professor of Homiletics, Rev. Innocent Smith, O.P.
According to the Institute, presentations will be on the liturgical manuscripts in the Archabbey Library collection, ranging from 11th-century southern Germany to 18th-century Ethiopia. None of the manuscripts has previously been studied, and many are new acquisitions with fascinating histories. The workshop will explore what can be learned from the manuscripts and how to study them.
Though the speakers are among the top in their field, the event is geared toward the general public and is an opportunity to shine a light on the riches of the collection with the scholars most expert at uncovering those riches.
St. Mary's Seminary & University is hosting a comprehensive evaluation visit for reaffirmation of accreditation by the Association of Theological Schools (ATS) Commission on Accrediting on January 24 – January 27, 2022. The purpose of this visit is to verify that the school meets all applicable Commission Standards of Accreditation. Comments regarding how well the school meets those standards and/or generally demonstrates educational quality may be sent to the ATS Director of Commission Information Services at least two weeks before the visit. Comments may also or instead be sent in writing to Pat LeNoir, Special Assistant to the President for Institutional Excellence (plenoir@stmarys.edu). All comments will be shared with the onsite evaluation committee.
Please Join Us for
Lessons & Carols
Thursday, December 9, 2021
5:00 PM (organ preludes at 4:50 PM)
Sung by the
St. Mary's Seminary Schola Cantorum
in St. Mary's Chapel of St. Mary's Seminary & University