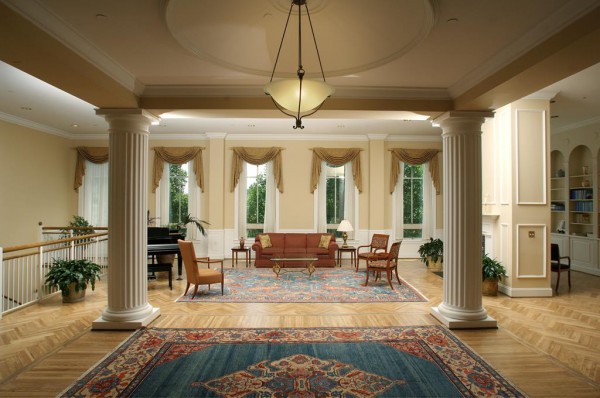 The Gathering Room features a comfortable living room-like setting with fireplace and grand piano. This space provides a nice atmosphere for an intimate social gathering, from a simple tea to an elegant cocktail party.
The Forum features graded seating with movable ergonomic chairs to accommodate 58 participants.  The fixed tables are in a semicircular pattern on three levels and include electrical receptacles and data-ports.  Movable tables on the lowest level allow for a variety of configurations.  Large windows with semi-opaque shades, a large three-paneled white board, ceiling-mounted microphones and LCD projector and a dedicated recorder make this an ideal venue for presentations, and conversations as well as for capturing the event on DVD.


The Forum Seminar Room contains movable tables and chairs to accommodate 25 participants in a wide variety of configurations.  This versatile space adapts well for small group work.
The Conference Room features movable cherry wood tables and ergonomic chairs for 30 participants.  This contemporary board room atmosphere is appointed with drapes and credenzas, a sound system, and tastefully mounted white boards with retractable screens.  The room is Wi-Fi enabled and has an LCD projector available.
Smaller meeting rooms include the Chart Room which is Wi-Fi enabled and has boardroom style seating for 6 to 12, as well as three smaller parlors which provide a relaxed atmosphere with couches and chairs to seat 4 to 10 people.