St. Mary's Center for Continuing Formation offers and hosts a variety of continuing formation programs for priests in the spirit of the Bishops' Basic Plan for the Ongoing Formation of Priests.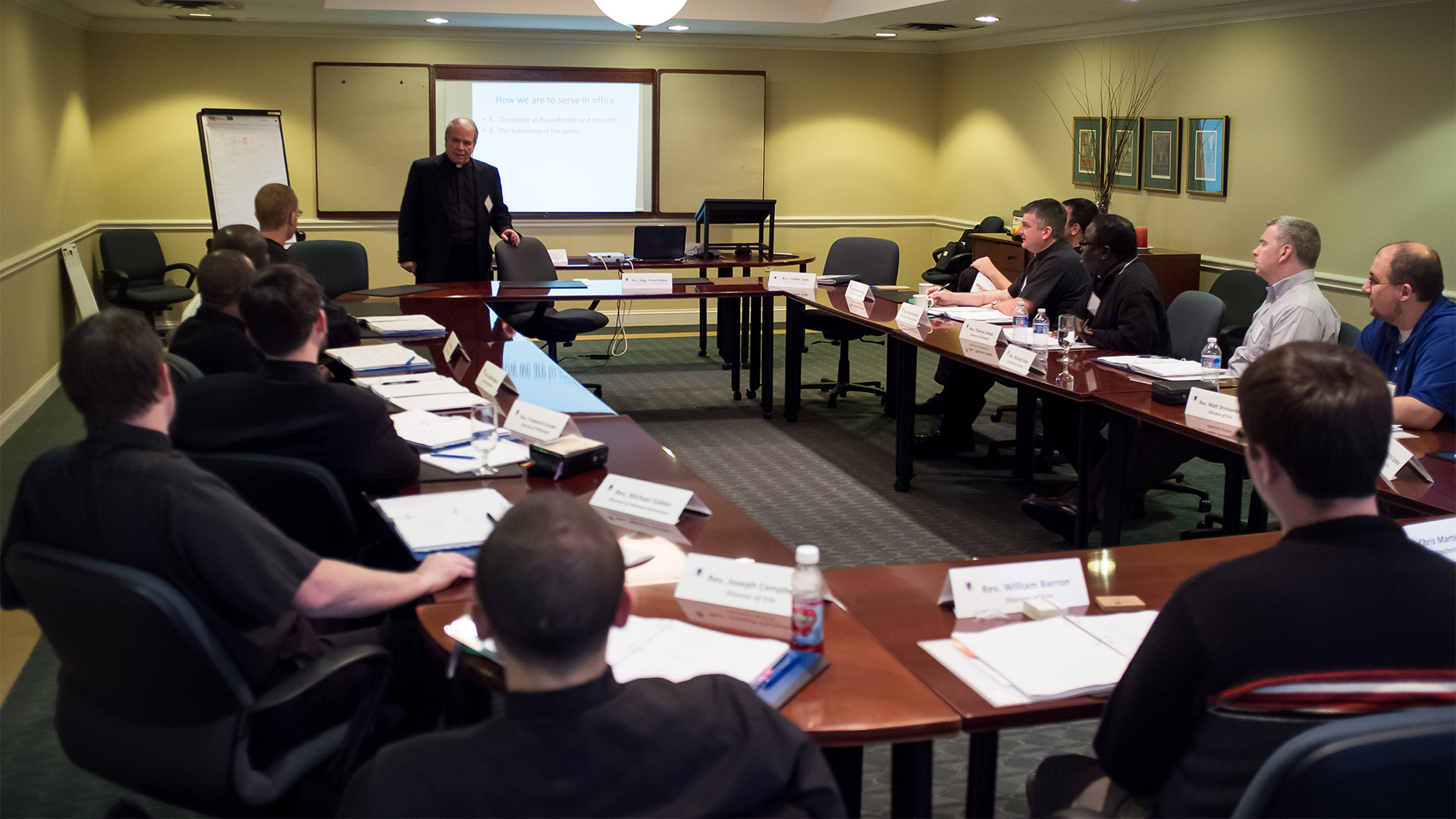 Participants enjoy:
A private guest room with bath and all amenities, including private phone and computers for e-mail and the Internet.
A state-of-the-art conference facility with conference rooms, library, private oratory and chapel, dining room, outdoor terrace, and fitness center.
Current Clergy Programs
Sabbaticals
Sabbaticals continue to be important, even necessary, for the continuing formation of priests. Sabbaticals provide a time and some space for relaxing from the humdrum, for reflecting on life and ministry, and for reorienting oneself within the intellectual, personal and spiritual life of Christian communion.
Senior Priests' Retreat
An annual three-day retreat for priests sixty-five years old or older.

A chance to come aside to a place apart; rest awhile with the Lord and be refreshed!
Learn more about the Senior Priests' Retreat
Preaching Lent 2023
Preaching Lent is a workshop for priests and deacons to share resources and ideas for preparing homilies for the Sundays of Lent (Year A). Faculty members from St. Mary's Seminary and the Dominican House of Studies will give presentations on the liturgical and scriptural themes of the Lenten season, as well as the writings of St. Leo and facilitate a group discussion.
New Pastors' Program
The New Pastors Program is held annually in early November at the Center for Continuing Formation on St. Mary's Campus. This conference is for newly minted pastors or for priests who will soon be appointed to the pastorate. Parish Life Coordinators are also invited to attend.
Learn more about the New Pastors' Program.
Spiritual Direction 101
Coming from the Center for Continuing Formation: a conference that addresses basic issues and required skills for priests and lay ecclesial ministers who are asked to be spiritual directors.
Programs for Presbyterates
Rather than offering a one-size-fits-all package for presbyteral meetings, the Center offers to presbyteral leadership the possibility of designing specific programs to fit a diocese's needs. The Center will work with diocesan directors and their commissions, construct and design a needs-particularized program, propose presenters to the diocese for its approval, and then contract with these presenters.
Contact the Center for additional details.