Rev. Katherine Sonderegger to Give 2021 Dunning Lecture
October 7, 2021
|
Ecumenical Institute News, Uncategorized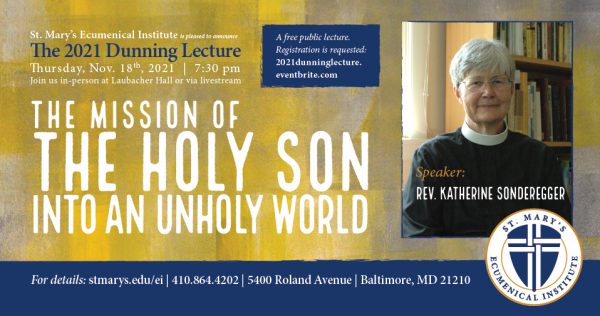 The Mission of the Holy Son into an Unholy World
November 18, 7:30 pm
Laubacher Hall or via livestream
Perhaps the central word in Scripture for the reality and ministry of the Son of God is 'sending.' He is the One sent, by His Father into the created realm, Incarnate of the Holy Spirit and the Virgin Mary. And He is sent throughout His earthly life, to do the work He is given to do, to enter into the night of the world, its chaos and indifference and cruelty, to be the world's Light. He is sent to the Cross, an act at once Transcendent and altogether earthly. This talk will explore the Mission of the Holy Son under one, dominant and complex idea, that of sacrifice, which best captures the kind of 'sending' that characterizes Christ's life. The Eternal Son is the Living Sacrifice, sent to be the world's Sacrifice. He is the Holy One in an unholy world. In this way, the Temple worship of ancient Israel—its cultic sacrifice—comes to life and guides the teaching of the Church in its Doctrines of the Person and Work of Christ.
The Rev. Katherine Sonderegger holds the Wm Meade Chair in Systematic Theology at Virginia Theological Seminary in Alexandria, VA, where she has taught since 2002. She was educated at Smith College, Yale Divinity School, and Brown University, where she undertook research on the great 20th century Reformed theologian, Karl Barth. Prior to taking her position at VTS, Kate taught in the Religion department at Middlebury College in Vermont. While she grew up a Presbyterian, and her Reformed roots still run deep, she is now a priest of the Episcopal Church, resident in the diocese of Virginia. Her vocation is the study and writing of systematic theology. Two volumes of her Systematic Theology on the Doctrine of Divine Attributes and of the Holy Trinity have appeared under Fortress Press, 2015, 2020. Her current research for volume 3 is on the Missions of the Son and Spirit. When not at her desk, Kate can be found outdoors: gardening, hiking, sailing, riding her bike, or heading to a ball game.
To attend the event in-person, please register HERE, or attend online via livestream. Please contact Dr. Rebecca Hancock with any questions about the event.
BACK TO NEWS
Most Recent Posts
Summer Course Preview
Registration for summer classes at St. Mary's Ecumenical Institute opens on April 17th, 2023. Summer courses run from 5/25/23 through 6/29/23. ...
Read More
CONNECT: Faith, Health & Medicine Graduate Certificate Now Receiving Applications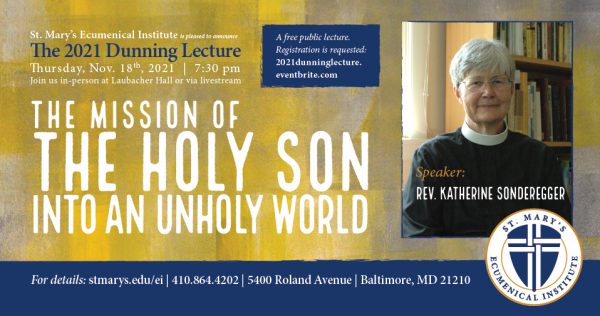 Read More