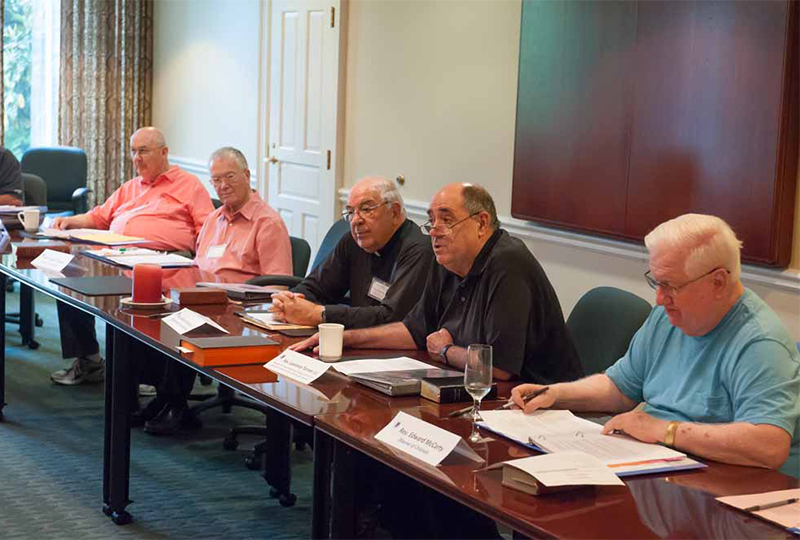 Go, Make Disciples: Ascension Hope and Challenge
Retreat for Senior Priests: May 15-19, 2023
Father Corbin Eddy, Director
The eleven disciples went to Galilee, to the mountain to which Jesus had ordered them. When they saw him, they worshiped, but they doubted. Then Jesus approached and said to them, "All power in heaven and on earth has been given to me. Go, therefore, and make disciples of all nations, baptizing them in the name of the Father, and of the Son, and of the holy Spirit, teaching them to observe all that I have commanded you. And behold, I am with you always, until the end of the age." Matthew 28:16-20
The timing of this retreat coincides with the 38th, 39th, and 40th Days of Easter.
The liturgy itself invites senior priests to reflect and pray with the eleven disciples, no longer cited as twelve apostles in Matthew, on the absence/presence of the Lord Jesus in their own lived experience of responding to the Great Commission as ministers of word and sacrament.
The whole of Matthew 28 will provide the scriptural core of the retreat with special emphasis on verses 16-20 that inspired the image carved into the parapet of St. Mary's Seminary.
---
As members of an imperfect group of "eleven" disciples, retreatants as senior priests will be invited to revisit their own call to the mountain as well as their experience of "worship and doubt." They will be invited to consider their ongoing vocation by word and sacrament addressed to the "nations," confident that the Lord Jesus is present to the end of the age.
---
Cost: $995

Registration Deadline: May 5, 2023
Space is limited. Registration will be closed when full.
Proposed Schedule
MONDAY (May 15)

4:00

pm

Arrival
5:40

pm

Dinner
7:00

pm

Opening of Retreat followed by Night Prayer

TUESDAY through THURSDAY (May 16, 17, & 18)

8:30

am

Breakfast
9:15

am

Morning Prayer, Conference and Conversation
10:00-10:45

am

Sacrament of Reconciliation available
11:30

am

Eucharist
12:15

pm

Lunch
4:00

pm

Evening Prayer, Conference and Conversation
5:30

pm

Dinner

Tuesday and Wednesday

7:00

pm

Film or Musical Presentation* followed by Night Prayer

Thursday

7:00

pm

Holy Hour with Benediction

FRIDAY (May 19)

8:00

am

Breakfast
9:30

am

Eucharist and Close of Retreat
11:00

am

Departure
* Evening Possibilities
Possible Films: Our Town, Of Gods and Men, I Heard the Owl Call My Name, Letters to Father Jacob, Into Deep Stillness, Entertaining Angels (the Dorothy Day Story)
Possible Musical Presentations (CDs): Magnificat by J.S.Bach, Gloria by Antonio Vivaldi, Requiem by Fauré, Requiem by Duruflé. (Introduced with suggestions on what to listen for.)
Rev. Corbin Eddy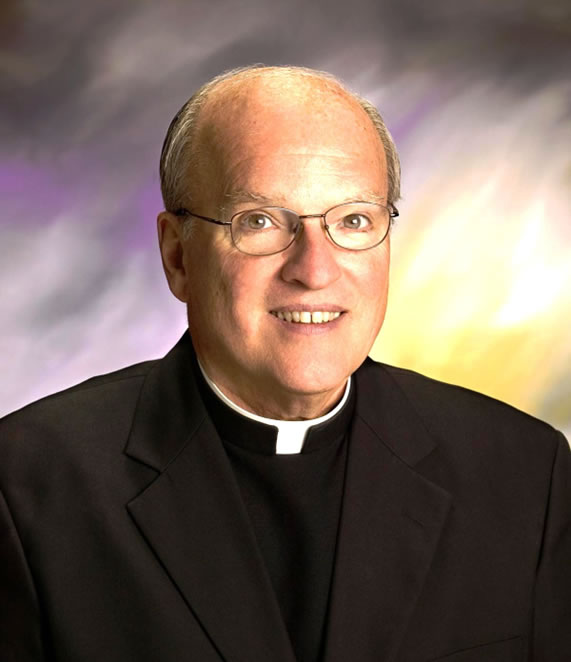 Father Eddy was ordained for the Diocese of Marquette, Michigan in 1968. After completing graduate studies in Ottawa, Canada he served on the faculty of St. Mary's Seminary. In 1980 he returned to Canada where he served as pastor, adjunct professor at St. Paul University and in various archdiocesan administrative capacities. From 2000 to 2007 he served again at St. Mary's Seminary as Assistant Professor of Liturgical Studies, Director of Music, and Spiritual Director for the Center for Continuing Formation. The author of books and articles on pastoral liturgy and homiletics, he lives in Hancock, Michigan, serves as a senior priest in the diocese, and is regularly called upon for retreats and parish missions. He is currently an adjunct professor and visiting campus pastor at Finlandia University.
For more information, contact:
Center for Continuing Formation
St. Mary's Seminary and University
5400 Roland Avenue
Baltimore, MD 21210
410-864-4102