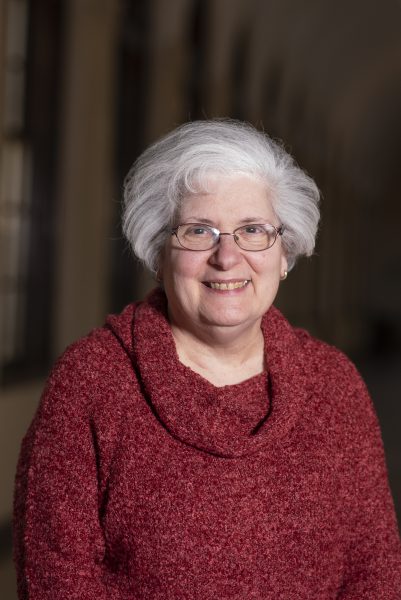 Dr. Pat Fosarelli, EI Alum, Associate Dean of Instruction, and Director of the MA in Christian Ministries, was recently elected to the board of directors of the Health Ministries Association (HMA), a national organization that "encourages, supports and empowers leaders in the integration of faith and health in their local communities."
As one who has long integrated faith and health as a faculty leader in EI's CONNECT: Faith, Health & Medicine Certificate program, as well as through her continuing faculty role at Johns Hopkins University School of Medicine, we couldn't think of a better choice.
NOTE: The CONNECT Certificate program will run again beginning Spring 2023 (with a remote attendance option). If you would like more information on this cohort-based program for medical professionals, religious leaders, and anyone concerned with the challenges of integrating faith and health, please contact Galen Zook.
October 2021
Members of the Saint Mary's community have an impact far beyond our Baltimore location. Recent examples include:
Dr. Michael Gorman at Northern Seminary

St. Mary's Raymond E. Brown Professor of Biblical Studies and Theology, Dr. Michael J. Gorman, was selected by Northern Seminary to give the 2021 Brady Theology and Mission Lectures on September 23 and 24 at the seminary in Lisle, IL (Chicago). The event was livestreamed. More on the Northern Seminary website…
Fr. Dennis Billy Records Upcoming Broadcast

On October 4, St. Mary's Robert F. Leavitt Distinguished Service Professor of Theology, Rev. Dennis J. Billy, C.Ss.R., traveled to Long Island, NY to record two upcoming programs for the Catholic Faith Network. The programs will discuss the relationship between Catholic Spirituality and Catholic Moral Teaching. They are part of the series, Encounter, featuring Bishop John Barres of the Diocese of Rockville Centre.
Dr. Matthew Dugandzic Lectures at Rutgers University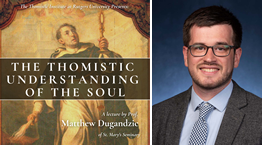 On Thursday, October 14 the Thomistic Institute at Rutgers University presented a lecture by Prof. Matthew Dugandzic on "The Thomistic Understanding of the Soul." The lecture was given on the campus of Rutgers in New Brunswick, NJ.
St. Mary's Attends the Saint Luke Institute Annual Benefit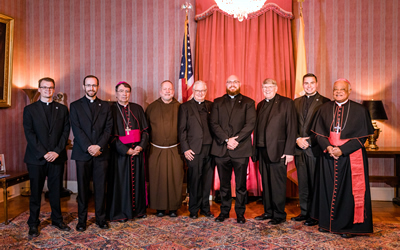 On October 18, St. Mary's President Rector, Rev. Phillip J. Brown, P.S.S., and four seminarians attended the Annual Saint Luke Institute Benefit at the Apostolic Nunciature in Washington D.C.
In the photo: [from left to right] Mr. Andrew McCarroll (Diocese of Scranton, 2nd year), Mr. Michael Boris (Diocese of Scranton, 3rd year), Archbishop Christophe Pierre (Apostolic Nuncio), Rev. David Songy, O.F.M. Cap., S.T.D., Psy.D. (President and CEO, Saint Luke Institute), Rev. Phillip J. Brown, P.S.S., J.D., J.C.L. (President Rector, St. Mary's), Rev. Mr. Brian Norris (Diocese of Altoona-Johnstown, 4th year), Rev. Msgr. John J. Enzler (President and CEO, Catholic Charities, Archdiocese of Washington and Recipient of the 2021 Saint Luke Award), Mr. C.J. Wild (Diocese of Buffalo, 1st year), and Wilton Cardinal Gregory (Archbishop of Washington).
ST. MARY'S SEMINARY & UNIVERSITY
invites you to a piano recital by
Rev. Paul Maillet, P.S.S.
Bach: Selected Chorale Preludes
Schubert: Sonata in A Major, D. 664
Rachmaninov: Moments Musicaux, Op. 16
Sunday, November 14, 2021 • 3:00 pm
St. Mary's Chapel at St. Mary's Seminary & University
Light reception to follow
Free and open to the public, but we encourage you to RSVP: rsvp@stmarys.edu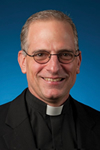 Before discerning a call to the priesthood, Paul Maillet received critical acclaim and international recognition for his performances with orchestra and in recital. He studied under full scholarship with Cécile Genhart at the Eastman School of Music. An alumnus of the Peabody Conservatory, he studied with Leon Fleisher and received the prestigious Artist's Diploma.
"Maillet remains a fluent technician who boasts a particularly lovely quality of sound and who excels in subtlety of voicing. Most of all he has something to say, feelings to express and thoughts to communicate….Maillet's playing is about his spirit, about his beliefs, about his experience of life…"
The Boston Globe
"One of the best of the many brilliant students who have emerged from Leon Fleisher's studio. He's a pianist with an abundance of technique, a beautiful tone, and a deep streak of poetry."
The Baltimore Sun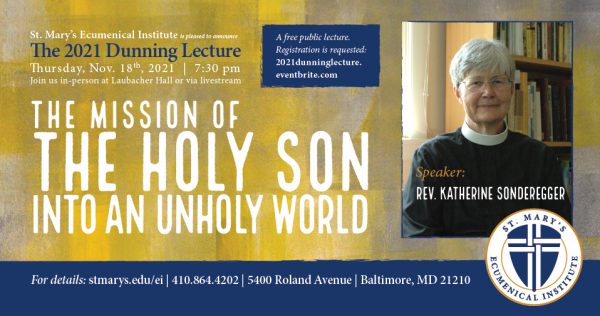 The Mission of the Holy Son into an Unholy World
November 18, 7:30 pm
Laubacher Hall or via livestream
Perhaps the central word in Scripture for the reality and ministry of the Son of God is 'sending.' He is the One sent, by His Father into the created realm, Incarnate of the Holy Spirit and the Virgin Mary. And He is sent throughout His earthly life, to do the work He is given to do, to enter into the night of the world, its chaos and indifference and cruelty, to be the world's Light. He is sent to the Cross, an act at once Transcendent and altogether earthly. This talk will explore the Mission of the Holy Son under one, dominant and complex idea, that of sacrifice, which best captures the kind of 'sending' that characterizes Christ's life. The Eternal Son is the Living Sacrifice, sent to be the world's Sacrifice. He is the Holy One in an unholy world. In this way, the Temple worship of ancient Israel—its cultic sacrifice—comes to life and guides the teaching of the Church in its Doctrines of the Person and Work of Christ.
The Rev. Katherine Sonderegger holds the Wm Meade Chair in Systematic Theology at Virginia Theological Seminary in Alexandria, VA, where she has taught since 2002. She was educated at Smith College, Yale Divinity School, and Brown University, where she undertook research on the great 20th century Reformed theologian, Karl Barth. Prior to taking her position at VTS, Kate taught in the Religion department at Middlebury College in Vermont. While she grew up a Presbyterian, and her Reformed roots still run deep, she is now a priest of the Episcopal Church, resident in the diocese of Virginia. Her vocation is the study and writing of systematic theology. Two volumes of her Systematic Theology on the Doctrine of Divine Attributes and of the Holy Trinity have appeared under Fortress Press, 2015, 2020. Her current research for volume 3 is on the Missions of the Son and Spirit. When not at her desk, Kate can be found outdoors: gardening, hiking, sailing, riding her bike, or heading to a ball game.
To attend the event in-person, please register HERE, or attend online via livestream. Please contact Dr. Rebecca Hancock with any questions about the event.
UPCOMING THEOLOGY TOWN HALL
Leading Lead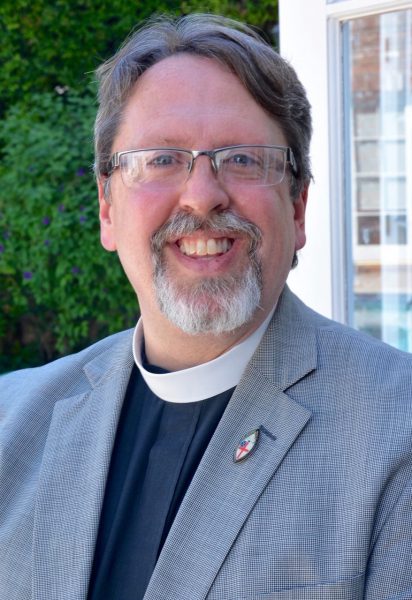 ers Through Another Year of COVID
Wednesday, November 3, 12 pm
The Rev. Canon C. K. Robertson, Ph.D. has served for many years as Canon to the Presiding Bishop of The Episcopal Church as well as Distinguished Visiting Professor at General Theological Seminary. A member of the Council on Foreign Relations and the development board of Durham University, Chuck previously served on the governing board of the National Council of Churches USA, and was vice president of the board of the Anglican Theological Review and guest editor of several ATR issues, as well as General Editor of Peter Lang Publishing's "Studies in Episcopal & Anglican Theology" series. He holds honorary doctorates and canonships from several institutions, and has authored or edited over a dozen books and many journal articles.